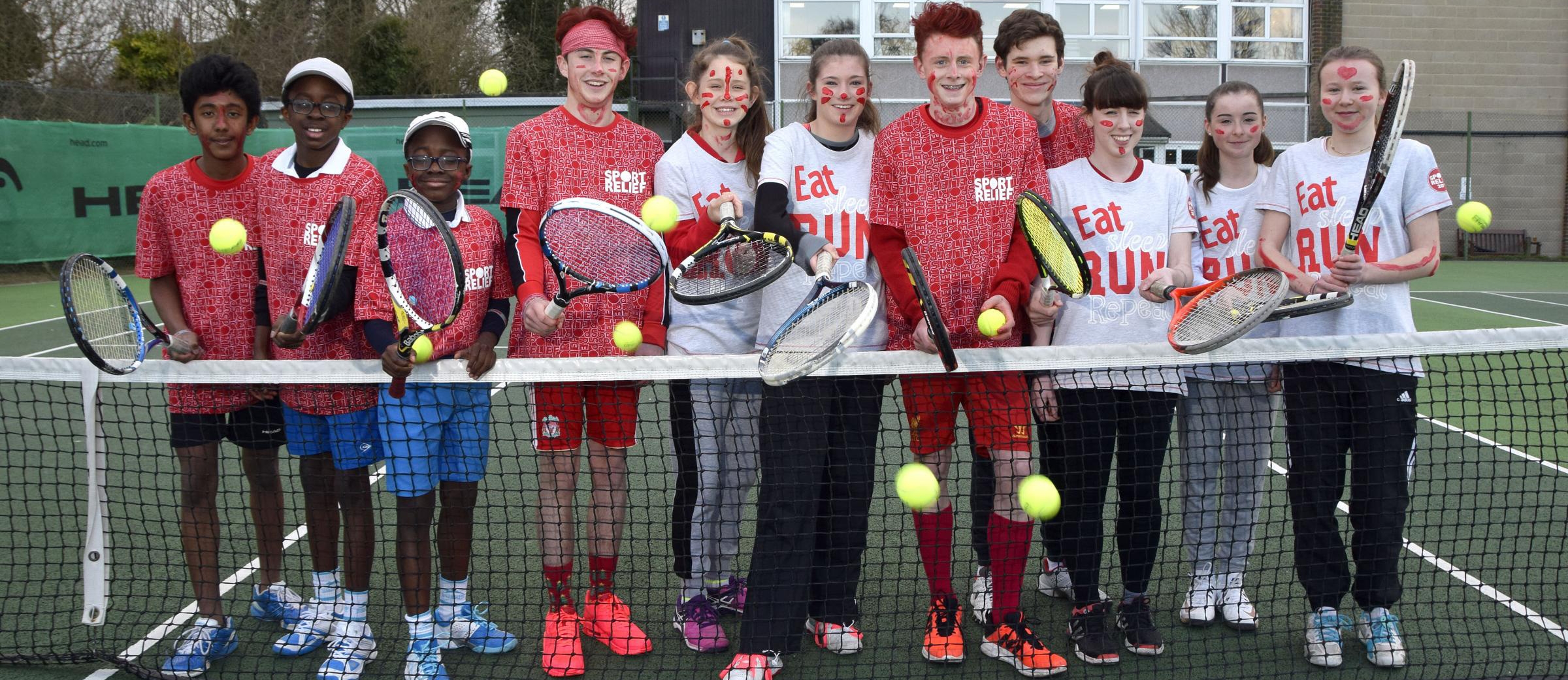 Tournaments & Events
We run a variety of tennis tournaments and events throughout the year, ranging from the competitive Summer Tournament to fun charity fundraising events.
When the weather allows, these are accompanied by a BBQ on our advantageously placed grassy bank overlooking the courts.
Upcoming events
Team Tennis, Summer Drinks and BBQ Extravaganza - Saturday 3rd June 2017
Club Finals Day - Junior and Senior Finals - Saturday 8th July 2017 - Entries are now closed and early rounds are underway!
Check back here for more info nearer the time!
Recent events
2017 Adrian Davis Cup
The annual Adrian Davis Cup run by MDL Coaching took place on Saturday 8 April. There was a great turnout with 40 pairs taking part, representing South Croydon and many clubs in the area.
Well done to all who took part ensuring a great day's tennis and a big thank you to MDL Coaching for putting on such a well-run and fun event.
The winners were:
Mens: Tony Glading and Lee Phillips
Ladies: Danielle Hack and Alice Kirk
Mixed: Danielle Hayter and Daniel Field
2016 Handicap Tournament
Congratulations to the winners, runners-up, umpires and spectators, all of whom braved the elements on Saturday 12th November.
2016 winners:
Open Singles - Tom Corfield
Open Doubles - Pete Matthews and Daniel Reuben
Mixed Doubles - Marge Morgan and Andy Varley
Team Tennis Charity Tournament
On Saturday, 8th October 2016, the club held a team tennis event, in aid of the Royal Marsden Cancer Charity. It was a fantastic, fun event, with 4 teams of 8 players, taking part in a series of matches.
Members and local sporting celebrities kindly donated items for a raffle and an auction. There was also a BBQ in the evening.
At the end of the day, the total sum raised, was in excess of £1600.00.....!!
This event was so well received, that we intend to run it on an annual basis.
2016 Club Summer Tournament
The 2016  finals took place on Saturday 9 July. There was a fantastic turn-out of spectators, who were treated to a great afternoon of tennis.
Congratulations to our winners:
Men's Singles - Tony Brown
Ladies Singles - Alice Kirk
Men's Doubles - Steve Cox and Jeremy Toop
Ladies Doubles - Anne Bridge and Jo Green
Mixed Doubles - Jo Green and Jeremy Toop
Men's Plate - Wojtek Kaczanowski
Fundraising for Sports Relief
The juniors took part in a one hour, non-stop rally, where the players hit a shot and then run to the other end of the court.
The one-hour challenge on 20 March, 2016 raised a substantial £630 for Sports Relief.
Congratulations to all those who took part: Ekow Winney, Trijal Sumar, Kofi Winney, Georgie Gill, Danielle Hack, Alex Huggins, Kate Ferguson, James Hall, Alice Kirk, Charlie Gill and Lauren Hall.
Rally for Kids 2015
A great day was had by all those taking part in the Rally for Kids tournament on 28 December. We raised a wonder sum of £331 for the Royal Marsden Cancer Charity, for which we have received a very nice thank you letter.
Thank you to Jim Huggins and Steve Cox for organising and to everyone that took part – look at all these happy faces...